Financing Your Education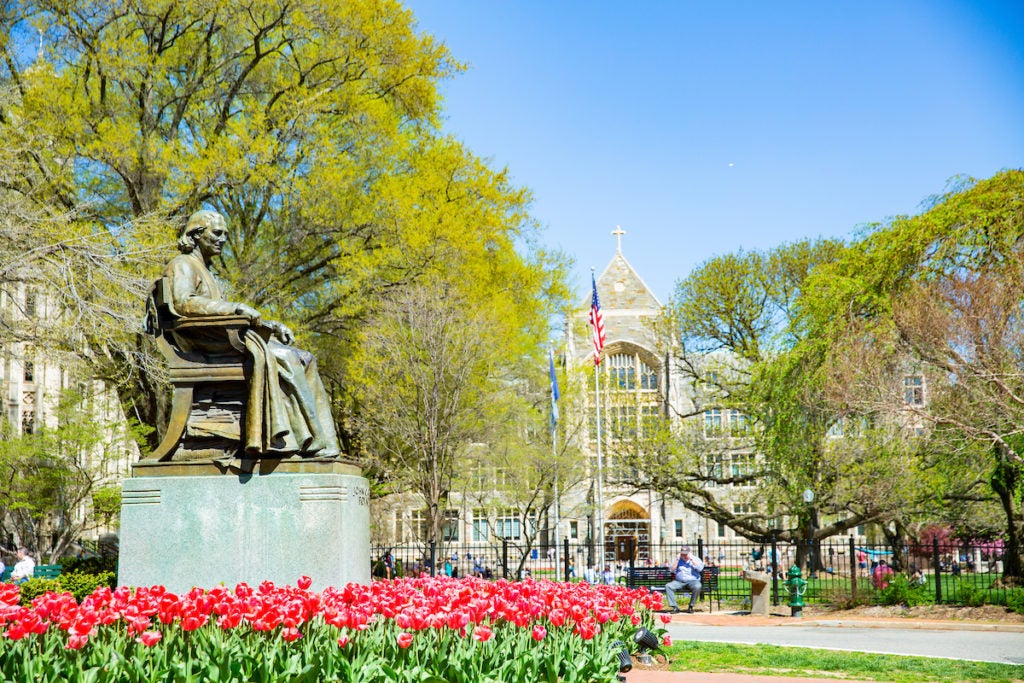 In the age where achieving educational goals can take on a costly burden, we understand the many questions prospective students face when planning to continue their education. As a military student there are a few financial funding avenues that you may be eligible for such as VA education benefits and Tuition Assistance, in addition to scholarships and other financial aid. Learn more about the different ways to finance your education.
Georgetown University is a proud participant of the Yellow Ribbon Program which is available to military students who are 100% for Post-9/11 GI Bill® benefits and not on active duty or receiving transferred benefits from a spouse on active duty. Learn more about how to use VA education benefits at Georgetown University.
In addition to VA education benefits, there are a few DoD educational funding opportunities and civilian military-specific scholarships available to students at Georgetown and nationally.
The undergraduate Main Campus programs offer need-based scholarships and many of our graduate academic programs offer merit-based scholarships for students. We encourage you to connect with the Office of Student Financial Services and the academic program to determine what scholarship opportunities are available and how to apply.
---
Financial Services
In addition, Georgetown offers an array of financial options for students through scholarships, grants, and federal aid. It is important to note that using VA education benefits does not impact federal aid, but it may impact Georgetown University's institutional aid.
The Office of Student Financial Services (OSFS) provides counseling services to prospective and current students and their families about:
• Options available for financing higher education costs
• Eligibility for assistance
• Applying for and obtaining funding
• Budgeting expenses and paying bills
For both undergraduate and graduate students, the OSFS determines eligibility for assistance from federal, state and private financial aid programs based on the rules and regulations established by those external agencies. OSFS also determines eligibility for Georgetown scholarships to undergraduates and assist in the selection of graduate students who receive university fellowships and scholarships through their academic program.
School of Continuing Studies (SCS)
Revenue and Receivables
The Revenue and Receivables oversees the assessment Board approved of tuition and fees, billing, payment processing, refunds, and IRS Form 1098-T generation for students of Georgetown University in addition to providing cashiering functions and check distribution for the University as a whole.
The Office of Third Party Billing is a sub-office of the Revenue and Receivables. Third Party Billing is a part of the Georgetown Certification Team by placing memos on student's accounts for expected military education benefits sent to the school and posts any funding received from the VA or DoD onto student's accounts. This office also processes Department of Defense tuition assistance (TA), employer tuition assistance, Vocational Rehabilitation book vouchers, and other third party payments that are sent directly to Georgetown.
---
GI Bill® is a registered trademark of the U.S. Department of Veterans Affairs (VA). More information about education benefits offered by VA is available at the official U.S. government Web site at https://www.benefits.va.gov/gibill (new window).