Military-Connected Awareness Month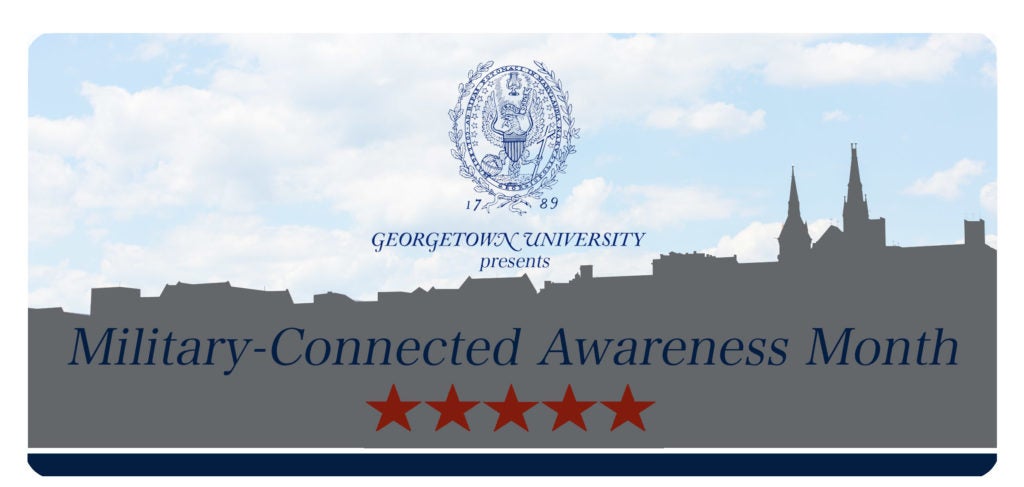 Throughout the month of November, Georgetown University offices and organizations are collaborating to highlight and celebrate the military-connected community.
---
U.S. and foreign military members, families, and allies are welcome to these events.
Operation Gratitude
Saying "Thank You" to all who serve
October 16 – November 15, 2019
Location: Yates Field House, Mezzanine
In partnership with Operation Gratitude, Yates Field House will be hosting a table for all members to stop by and create letters, thanking our past and present service men and women for their dedication and protection of our country.
Card and craft materials will be provided. All you need is a few minutes to express your gratitude and thanks this holiday season!
---
Campus Ministry Chaplains Tea with the Veterans Office
November 5, 2019 3-4PM
Location: Healy Foyer
Join Campus Ministry at the Veterans Office Chaplains' Tea. Enjoy sweet bites, relaxing tea, and conversations about the military-connected community. At 3:50 in Dahlgren Quad, rain or shine, we will pray as one community for peace and justice in our world.
---
Military-Connected Admissions Fair & Reception
November 6, 2019 5:30-8PM

Location: Healey Family Student Center Social Room
Kindly RSVP
Service members, Reservists, Veterans, Military Spouses, and Families, and Military-Connected Education Counselors are cordially invited to the Military-Connected Admissions Fair and Reception.
On November 6, 2019 from 5:30-8PM in the Healey Family Student Center's Social Room, you can meet with our academic school admissions offices to learn more about Georgetown's programs and with members of the Veterans Office to learn more about resources to military-connected students.

---
McDonough Military Association's War Stories
November 7, 2019 5-8PM
Location: Fisher Colloquium
The McDonough Military Association (MMA) hosts an event for the McDonough School of Business military-connected students to share their military experiences.
---
Women and Gender Perspectives in the Military
November 8, 2019 2-4PM
Location: Riggs Library
Kindly RSVP
Women and Gender Perspectives in the Military, edited by Dr. Robert Egnell and Mayesha Alam, compares the integration of women, gender perspectives, and the women, peace, and security agenda into the armed forces of eight countries plus NATO and United Nations peacekeeping operations. This book brings a much-needed cross-national analysis of how militaries have or have not improved gender balance, what has or has not worked, and who have been the agents for change.
The discussion will begin promptly at 2:00 PM, followed by a casual reception at 3:30 PM.
---
Georgetown University Veterans Day Ceremony and Reception
November 11, 2019 3PM
Ceremony: Copley Lawn (Rain Site: Copley Formal Lounge)
Reception: Riggs Library
Celebrate Veterans Day with GUSVA, Hoya Battalion ROTC, and the campus community with keynote speaker, Colonel Miguel Howe, (U.S. Army, Retired, SSP'04). A reception hosted by the Office of the President will follow in Riggs Library.
---
VET Ally: Intro to the Military-Connected Student Community
November 12, 2019 12-2PM

Location: Healey Family Student Center Herman Room and via Zoom
Kindly RSVP
The Veteran Education Training (VET) Ally Program, conducted by Georgetown's Veterans Office and co-sponsored by CNDLS and UIS, is designed to introduce faculty to the strengths, challenges, and realities that America's military service members and families encounter, and to help faculty develop the resources and skills to support these students. By becoming a VET Ally, faculty can help create an open environment for military students and contribute to their success as they reintegrate into academic and the civilian society. Participants who RSVP indicating the preference to attend via Zoom will be emailed a link close to the date of the event and participants who RSVP indicating the preference to attend in person will be provided lunch at the seminar.
---
The McCourt Leadership Series Presents: Women in Leadership
November 13, 2019 5:30-7PM
Location: Social Room: 205, Old North
This event is presented by Civil Military Association and Women in Public Policy Initiative (WiPP).
---
Veterans in Government Panel
November 14, 2019 5-8PM
Location: Rafik B. Hariri Building: Room 150
Kindly RSVP
GUSVA is honored to host U.S. Representative Brian Mast (R-FL) for a discussion on veterans in the legislature. Rep. Mast will be joined by other veterans, some of whom are Georgetown Alumni, who work on Capitol Hill. Together, we will discuss transitioning from the military to government, advice for launching a career in governance, and any other topics you find interesting and relevant!
There will be a reception following the panel, where you will have the opportunity to connect with our speakers and expand your network.
---
U.S. Department of Veterans Affairs' (VA) GI Bill® School Tour
November 15, 2019 3-4PM
Location: Healy Hall 106
Kindly RSVP
Watch Live via Zoom Meeting ID: 975 960 766
One tap mobile +16465588656,,975960766# US (New York)
+16699006833,,975960766# US (San Jose)
Georgetown University has been chosen as a stop on VA's Forever GI Bill School Tour. A Town Hall discussion will be held on Friday, November 15 from 3:00-4:00pm in Healy Hall, Room 106. This is your opportunity to meet with VA GI Bill Leadership and learn more about the exciting changes to the GI Bill!
---
Ruggles Lecture in Military Medicine
November 18, 2019 6PM
Location: GUSoM Harvey Amphitheater
Please join the 7th Annual Ruggles Lecture in Military Medicine. The speaker will be Dr Stephen Ray Mitchell, Dean for Medical Education at Georgetown University School of Medicine.

Dr Mitchell attended medical school at the University of North Carolina Chapel Hill as an AIR FORCE HPSP Scholar, then served several years on active duty and in the reserves.
---
VET Ally 2.0: ADDRESSING the Veteran Identity
November 19, 2019 12-2PM
Location: Healey Family Student Center Herman Room and via Zoom
Kindly RSVP
Have you attended the VET Ally: Intro to Military-Connected Community and are interested in delving deeper into understanding the student veteran experience? Join the Veterans Office, CNDLS, and UIS for a panel discussion to learn more about the layers of identity within the student veteran population.
---
2019's Military Awareness Month is brought to you in Partnership with Office of the President, Veterans Office, Office of the University Registrar, Georgetown University Admission Offices, Center for New Designs in Learning & Scholarship (CNDLS), Department o Veteran Affairs, University Information Services (UIS), Campus Ministry, Hoya Battalion ROTC, Georgetown University Student Veterans Association (GUSVA), and McDonough Military Association (MMA)